New videos on different measurements
New EOS/ESD Association, Inc. Videos
These videos produced by EOS/ESD Association, Inc. demonstrate how to make measurements for different applications.
View All Videos
Historical ESD Videos
These historical ESD videos were presented during the EOS/ESD Symposium & Exhibits.
Introduction To Static Electricity
In ordinary circumstances, static electricity and ESD are little more than an annoyance. However, in an increasingly technological age, the familiar static shock we receive when walking across a carpet can be costly or dangerous.
This same static discharge can ignite flammable mixtures and damage electronic components. Static electricity can attract contaminants in clean environments or cause products to stick together.
The cost of ESD-damaged electronic devices alone ranges from only a few cents for a simple diode to several hundred dollars for complex hybrids. Loss of production time in web processing industries due to static attraction is significant. When associated costs of repair and rework, shipping, labor, and overhead are included, opportunities must be considered for significant improvements in reducing losses to ESD and static electricity.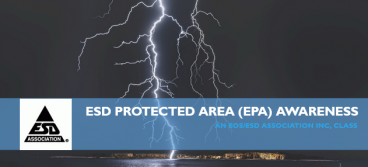 EPA Awareness Video (click to play)
Compliance Posters
EOS/ESD Association, Inc. has developed a collection of ESD Compliance Posters for use in Electrostatic Protected Areas. Developed by industry experts, the posters are a reminder for employees to follow ESD control procedures and practices.
Industry Videos
Posted videos are an industry resource; EOS/ESD Association, Inc. is not responsible for content. The users of this information need to determine the suitability of the represented opinions.
View All Videos
There is more to electrostatic discharge (ESD) than the shock you experience when touching a metal doorknob. It can, in fact, become a significant and costly problem to every imaginable business and industrial process if it is not professionally handled through reliable ESD standards.

Our EOS/ESD Association White Papers and those of The Industry Council provide further study and insight on the challenges, requirements, and solutions of ESD control. Topics include the importance of ESD on Electronic Circuits, Implementation of Effective ESD Robust Designs, and Electrical Overstress.

Explore additional resources from other associations, publications, and standards related to EOS and ESD, including ANSI standards and those from JEDEC and the Electronic Industries Alliance.
Glossary Of Terms

From "grounding" to "current sensor" to "electrical potential" and more, use our glossary of common EOS and ESD terms to help advance your understanding of electrostatics.

Common ESD Terms Translated

From "grounding" to "current sensor" to "electrical potential" and more, use our Translated Common ESD Terms document to quickly translate common ESD terms into Chinese.

Learn Our Acronyms

View our complete list of EOS/ESD acronyms, including CMOS, DMOS, and more, for better understanding of electrical overstress and electrostatic discharge.

Presenting an Effective Paper

EOS/ESD Association, Inc. provides some tips and guidelines for presenting an Effective Paper.

Education Modules

EOS/ESD Association, Inc. presents 6 new Education Modules for focused learning topics. These 6 short focused videos provide you with a greater understanding with specific topics in mind.

Topics include:
ESD Damage Prevention
Process Assessment
ROI
An overview of EOS/ESD Association, Inc.
ESD Design and Testing
Game-Changing Threats

12 Ways to use Zapped Components

Reprinted with permission from CCI.