TR53 Certification Classes
TR53 Certified ESD Technician Training by ASCC in cooperation with Prostat University
Date & Time:

June 23-25, 2020
Location:

Itasca, IL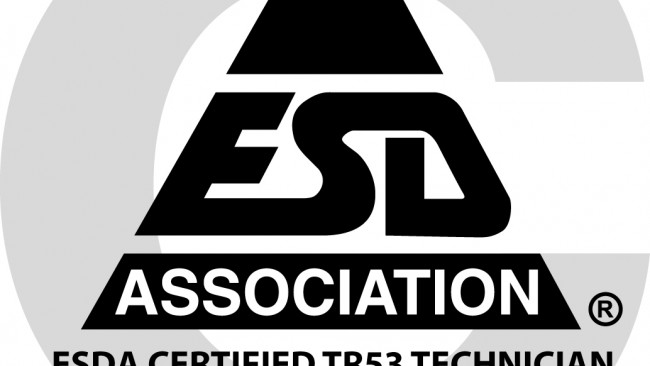 Overview
Overview
Meet the ESDA Certified TR53 Technician program requirements
Advanced Static Control Consulting (ASCC) has been endorsed by the ESD Association as an official, third-party, service provider for training that can lead to attendee certification as a "Certified TR53 Technician".
The ASCC TR53 Certified ESD Technician Training program will teach attendees how to make the measurements to verify that the installed ESD controls meet the requirements of ANSI/ESD S20.20 using the ESD Association's Technical Report ESD TR53.
Participants will learn how to make compliance verification measurements including worksurfaces, flooring, ionizers, packaging and static control garments. More importantly, attendees will learn how to determine the root cause of any Electrostatic Discharge controls that fail to meet the established requirements.
3 Day Course Including a Certification Exam

The TR53 Certified ESD Technician Training course consists of one day of classroom training, a one-day, hands-on workshop and an optional certification exam on the third day.
Attendees that pass the optional exam will be provided with certification credentials by ASCC. ASCC will also register all successful candidates with the ESD Association and pay the certification fee on their behalf.


Course Outline
Learning Objectives
The TR53 Certified ESD Technician Training Course will teach the fundamentals of Electrostatic Discharge and train technicians to make the ESD Control Measurements required by ANSI/ESD S20.20 and IEC 61340-5-1 ESD Program standards including:
Worksurfaces
Floors
Chairs
Mobile Equipment
Garments
Personnel Grounding (footwear, wrist straps etc…)
Ionizers
Gloves
Hand Tools
ESD Ground Verification
This course is 2 days of intensive study that includes the following subjects:
Classroom Instruction

ESD Basics for Auditors
Device Failure Models and Mechanisms
Equipment selection and use
Detailed measurement practices
Measurement Workshop

Individual instructions on resistance and voltage measurement techniques
Hands on practice using state-of-the-art auditing equipment
Optional Certification Exam (Day 3)
Candidate demonstrates proficiency in using equipment for required audit measurements
Successful candidates are designated as TR53 Technician by the ESD Association.
Future Events
2020

July 21-23, 2020
TR53 Certification Classes
Bangkok, Thailand

July 27-29, 2020
TR53 Certification Classes

September 28-30, 2020
TR53 Certification Classes

October 20-22, 2020
TR53 Certification Classes
Itasca, IL

November 9-12, 2020
TR53 Certification Classes
Technologie Centrum Westbayern, Emil-Eigner-Straße 1 86720 Nördlingen