TR53 Certification Classes
TR 53 Certified ESD Technician Training provided by ASCC in cooperation with Prostat
Date & Time:

October 22-24, 2019
Location:

Hyatt Place Chicago/Itasca
1150 North Arlington Heights Road, Itasca IL, USA 60143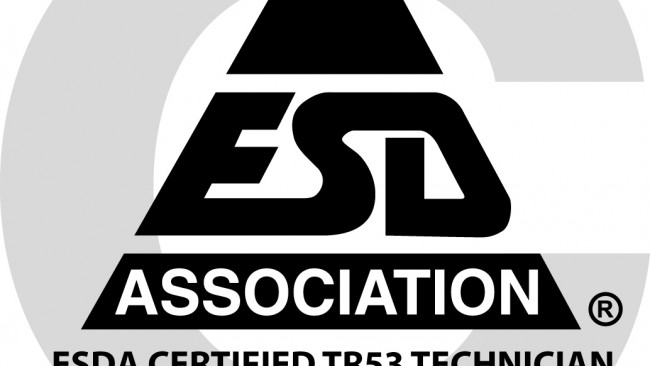 Overview
Advanced Static Control Consulting (ASCC) has been endorsed by EOS/ESD Association, Inc. as an official, third-party, service provider for training that can lead to attendee certification as a "Certified TR53 Technician".

The ASCC TR53 Certified ESD Technician Training program will teach attendees how to make the measurements to verify that the installed ESD controls meet the requirements of ANSI/ESD S20.20 using EOS/ESD Association, Inc's. Technical Report ESD TR53.
Participants will learn how to make compliance verification measurements including worksurfaces, flooring, ionizers, packaging and static control garments. More importantly, attendees will learn how to determine the root cause of any ESD controls that fail to meet the established requirements.

3 Day Course Including a Certification Exam
The TR53 Certified ESD Technician Training course consists of one day of classroom training, a one-day, hands-on workshop and an optional certification exam on the third day.

ESDA Certified TR53 Technician's Certification
Attendees that pass the optional exam will be provided with certification credentials by ASCC. ASCC will also register all successful candidates with EO/ESD Association, Inc. and pay the certification fee on their behalf.
Early Registration by 9/22/2019
Available Seats: 20
Register by credit card by calling Prostat at: +1 (855) STATIC1 (782-8421) or +1-630-238-8883
Future Events
2020

March 9-12, 2020
TR53 Certification Classes
Holiday Inn Munich City Center, Hochstrasse 3 | 81669 Munich

March 24-26, 2020
TR53 Certification Classes
Itasca, IL

March 30 - April 2, 2020
TR53 Certification Classes
NH Collection Dresden Altmarkt Dresden City Centre, An der Kreuzkirche 2,. 01067, Dresden, Germany

June 23-25, 2020
TR53 Certification Classes
Itasca, IL

July 21-23, 2020
TR53 Certification Classes
Bangkok, Thailand

July 27-29, 2020
TR53 Certification Classes

September 28-30, 2020
TR53 Certification Classes

October 20-22, 2020
TR53 Certification Classes
Itasca, IL

November 9-12, 2020
TR53 Certification Classes
Technologie Centrum Westbayern, Emil-Eigner-Straße 1 86720 Nördlingen