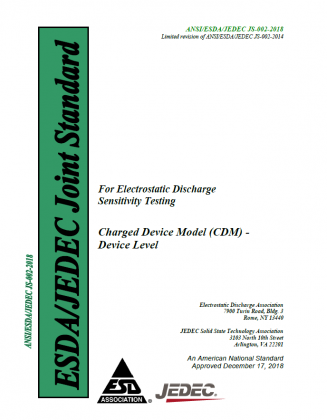 ANSI/ESDA/JEDEC JS-002-2022
ANSI/ESDA/JEDEC JS-002 is technically equivalent to IEC 60749-28.
ANSI/ESDA/JEDEC JS-002-2022 (revision of ANSI/ESDA/JEDEC JS-002-2018)
ESDA/JEDEC Joint Standard for Electrostatic Discharge Sensitivity Testing – Charged Device Model (CDM) – Device Level
This document establishes the procedure for testing, evaluating, and classifying devices and microcircuits according to their susceptibility (sensitivity) to damage or degradation by exposure to a defined field-induced charged device model (CDM) electrostatic discharge (ESD). All packaged semiconductor devices, thin-film circuits, surface acoustic wave (SAW) devices, optoelectronic devices, hybrid integrated circuits (HICs), and multi-chip modules (MCMs) containing any of these devices are to be evaluated according to this standard. The devices shall be assembled into a package similar to that expected in the final application to perform the tests. This CDM document does not apply to socketed discharge model testers.
Table of Contents
All electronic documents must be delivered directly to the intended person for use on only one computer. The document may not be forwarded to any additional users or accessed on multiple computers. Electronic documents will be emailed within 48 business hours.