Abstract Submissions for EOS/ESD Symposium
For the full Call For Papers Instructions and Guidelines, please view the PDF here
Symposium Abstract Submission Kit

TRACK 1: EOS/ESD in Manufacturing – Control Materials, Technologies, and Techniques

TRACK 2: On-Chip ESD Design, including System-Level ESD, Testing, and ESD Case Studies

Submission Deadline: February 10, 2020

About the "EOS/ESD in Manufacturing" Track

For the fourth year, "EOS/ESD in Manufacturing" offers a full track of activities dedicated to EOS/ESD in manufacturing – control materials, technologies and techniques. This manufacturing track focuses on a combination of full and short technical papers, poster presentations, invited papers, discussion groups, workshops, hands-on demonstration sessions, short tutorials, and practical demonstrations of equipment by exhibitors.
The call for papers describes the offerings and submission requirements. Each abstract submission selects the track, format, and suggested area using the abstract toolkit available on the EOS/ESD Association, Inc. website www.esda.org.
Parallel Track Options Are: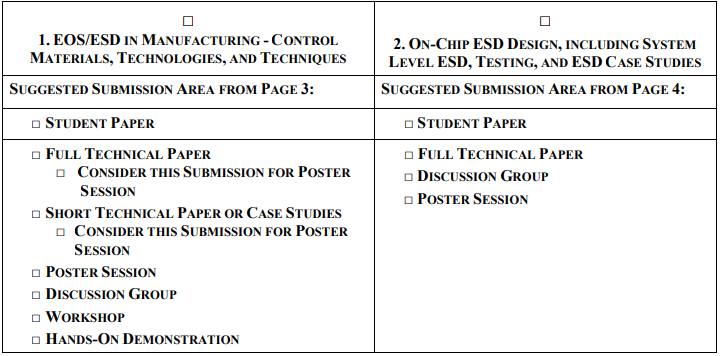 A. Full Technical Paper
Authors must submit a maximum 50-word abstract and 4-page maximum summary of their work. The summary must clearly state the purpose,
results (e.g., data, diagrams, photographs, etc.), and conclusions of the work. Summaries must also include references to prior publications and
state how the work enhances existing knowledge. Authors suggest the appropriate technical area related to their submission. Authors are required
to use the abstract submission toolkit available on the EOS/ESD Association, Inc. website www.esda.org.

B. Short Technical Paper or White Paper with Presentation of Case Studies
Authors must submit a maximum 50-word abstract and 2-page maximum summary of their work. The summary must clearly state the purpose,
results (e.g., data, diagrams, photographs, etc.), and conclusions of the work. Summaries must also include references to prior publications and
state how the work enhances existing knowledge. Authors suggest the appropriate technical area related to their submission. Authors are required
to use the abstract submission toolkit available on the EOS/ESD Association, Inc. website www.esda.org.

C. Poster Session
Authors must submit abstracts in the form of a short PowerPoint presentation. After the title slide, the second slide of the presentation should
describe the objective and significance in a maximum 200-word summary. The abstract presentation should not exceed 5 additional slides; with
representative data and figures that will be the foundation for the longer poster maximum of 24 slides that you plan to present. A formal five-minute presentation is given by each author followed by the poster session. Authors are required to use the abstract submission toolkit available on the EOS/ESD Association, Inc. website www.esda.org.

D. Workshop or Discussion Group
Proposals for workshops and discussion groups must be submitted with an abstract describing the proposal. The abstract toolkit is used to indicate
participation as a workshop moderator or committee participant. Workshop topics address fundamentals, generally accepted techniques, and
consider present and future challenges and solutions to problems. Discussion Group topics address EOS/ESD novel ideas and consider new
developments or common myths dispelled. The discussion should encompass some provocative points of view.

E. Hands-on Demonstration
Proposals for hands-on demonstrations of measurement techniques must be submitted with an abstract defining the presentation and measurement. Authors complete a presentation describing the measurement technique followed by a hands-on station for attendees to perform the measurement as described. Application, limitations, and common pitfalls should be discussed. Authors are required to use the abstract submission toolkit available on the EOS/ESD Association, Inc. website www.esda.org. (Note: ESDA does not provide equipment).

Track 1 Suggested Submission Areas:
• ESD Packaging and Handling Procedures
• EOS/ESD Detection and Measurement Techniques
• ESD Facility Design, Mitigation in Test and Manufacturing; Ionization
• Manufacturing EOS/ESD Case Studies, Reviews and Analysis
• EOS/ESD Process Assessment
• ESD Control in Industry 4.0
• ESD Control Materials and Use of Antistatic Materials
• ESD Issues in 2.5D & 3D Stacking and TSV
• Control Program Topics (Cost/Benefit Analysis, training, etc.)
• ESD control in Explosives & Pyrotechnics, Oil/Petroleum/Biomedical/Chemical Industry
• Standards – Comparison and Analysis
• ESD Control with IoT Technology