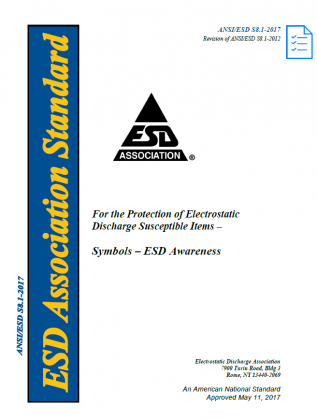 ANSI/ESD S8.1-2021
ESD Association Standard for the Protection of Electrostatic Discharge Susceptible Items – Symbols
This document covers the ESD susceptibility, ESD protective, and ESD common point ground symbols.
The correct usage of symbols will eliminate confusion between symbols that indicate that an item or material is ESD susceptible and those that indicate that an item is designed to afford some degree of ESD protection. This symbol standard is developed in accordance with international graphical guidelines and standards.
Table of Contents
All electronic documents must be delivered directly to the intended person for use on only one computer. The document may not be forwarded to any additional users or accessed on multiple computers. Electronic documents will be emailed within 48 business hours.