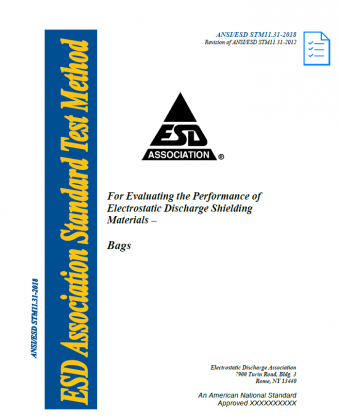 ANSI/ESD STM11.31-2018
ANSI/ESD STM11.31 is technically equivalent to IEC 61340-5-8.
ESD Association Standard Test Method for Evaluating the Performance of Electrostatic Discharge Shielding Materials – Bags
The purpose of this standard is to ensure that testing labs, using this test method to evaluate a given packaging material, will obtain similar results.
Table of Contents
All electronic documents must be delivered directly to the intended person for use on only one computer. The document may not be forwarded to any additional users or accessed on multiple computers. Electronic documents will be emailed within 48 business hours.