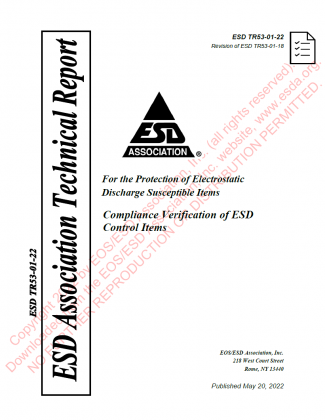 ESD TR53-01-22
IEC 61340-5-4 is technically equivalent to ESD TR53-01.
(Revision of ESD TR53-01-18, the 2018 version will remain available until June 30, 2023)
ESD Association Technical Report for the Protection of Electrostatic Discharge Susceptible Items – Compliance Verification of ESD Protective Equipment and Materials
The purpose of this technical report is to provide compliance verification test procedures and troubleshooting guidance for ESD protective equipment and materials. Test results may be used for the Compliance Verification Plan Requirements of ANSI/ESD S20.20 or those of the user if more restrictive.
Table of Contents
All electronic documents must be delivered directly to the intended person for use on only one computer. The document may not be forwarded to any additional users or accessed on multiple computers. Electronic documents will be emailed within 48 business hours.