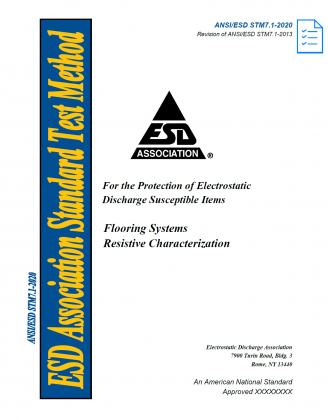 ANSI/ESD STM7.1-2020
ANSI/ESD STM7.1 is technically equivalent to IEC 61340-4-1.
ESD Association Standard Test Method for the Protection of Electrostatic Discharge Susceptible Items – Floor Systems – Resistive Characterization
This standard test method provides procedures for measuring the electrical resistance of floor materials used for the control of electrostatic charge and discharge. It also provides test methods for the qualification of floor materials prior to their installation or application, as well as test methods for acceptance and monitoring of floor materials after installation or application.
Table of Contents
All electronic documents must be delivered directly to the intended person for use on only one computer. The document may not be forwarded to any additional users or accessed on multiple computers. Electronic documents will be emailed within 48 business hours.