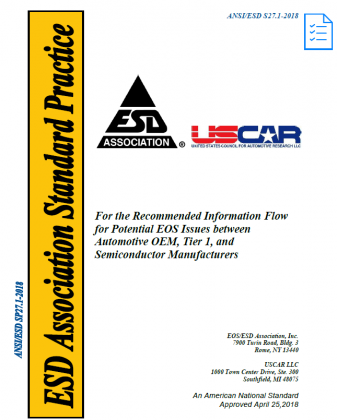 ANSI/ESD SP27.1-2018
ESD Association Standard Practice for the Recommended Information Flow Regarding Potential EOS Issues between Automotive OEM, Tier 1, and Semiconductor Manufacturers
ISBN: 1-58537-300-1 (19 pages)
This document provides guidance based on a two-level approach that describes what necessary and important information should be shared between automotive original equipment manufacturer (OEM), Tier 1, and semiconductor manufacturers to solve electrical overstress (EOS) issues.
NOTE: Subcontractors are considered to be under the responsibility of the Tier 1 as defined in the OEM statement of work (SoW).
All electronic documents must be delivered directly to the intended person for use on only one computer. The document may not be forwarded to any additional users or accessed on multiple computers. Electronic documents will be emailed within 48 business hours.