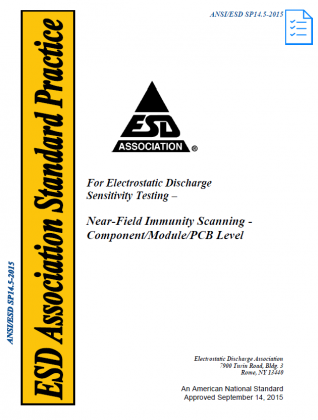 ANSI/ESD SP14.5-2021
ESD Association Standard Practice for Electrostatic Discharge Sensitivity Testing – Near Field Immunity Scanning – Component/Module/PCB Level
This document establishes a test method for immunity scanning of ICs, modules, and PCBAs. Results from near-field immunity scanning relate to the system level behavior but cannot predict system level performance using the IEC 61000-4-2 test method. The reason is that variations exist in coupling paths between injection points and local current densities and associated fields coupled into traces or ICs.
This test method focuses on soft failures, such as bit errors and upsets, keeping in mind that fast pulses can also cause latch-up. The document will guide the user in identifying the root causes of ESD induced soft failures in components, such as ICs, modules, and PCBAs, for debugging and quality control purposes.
Table of Contents
All electronic documents must be delivered directly to the intended person for use on only one computer. The document may not be forwarded to any additional users or accessed on multiple computers. Electronic documents will be emailed within 48 business hours.